Holla! I'm back!
The first part of O-level Chinese is finally over! I had some problems initially. I couldn't really see the clock infront because I was placed at the last seat. The glaring sun was shining directly on my spectacle lens and I had to request to shift my table few centimeters behind. The invigilator (an indian teacher from another school) who helped me seemed to be annoyed, and that affected my mood. Thank God Mr Bala, my math teacher, was present to make sure the examination progressed smoothly.
The papers were rather difficult in my opinion, so I guess I have to kiss my distinctions goodbye. I am expecting a grade B4 or lower because I know I screwed up my Paper 1. I think I wrote many incorrect characters despite having a mandarin dictionary on my desk, so I assume I lost three (the maximum mark to be deducted for incorrect characters per essay) or six marks. I attempted si han (informal letter writing) because gong han (formal letter writing) seemed like it had many pitfalls and also because I had been practising si han during my weekends, but that didn't mean that si han was way easier.
The question was: "Your friend had written you a letter. It mentioned that having good qualifications will enable you to succeed. You're required to reply to his letter and share your views." .
I encountered difficulties while doing the questions. What exactly did the question want? Did it want the process for success, the aftermath of success.. or both? I didn't have the time to think patiently, so I just penned what was on my mind. It was totally impromptu, so I doubt I'm gonna do well. Section two of the paper was doable, but my storyline was quite cliche. Hopefully those written idioms and proverbs which I painstakingly memorised will fetch me more marks.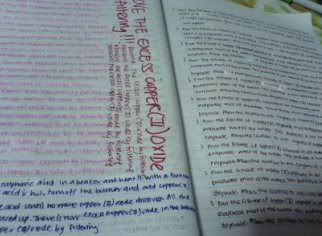 What I've been doing for the past one week.
Be motivated!
I attended Yuchan's birthday party cum class barbecue session on 2 June. Even though many classmates paid for the food, only half of the class went. It was pretty boring at the onset because the barbecue pit was not ready and thus food couldn't be cooked immediately. Everyone took pictures while waiting for the food to be served.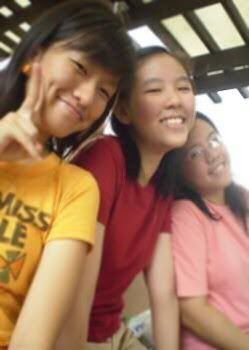 Xiaoqing, Adelene and I
The food were all prepared by Yuchan. I didn't know she could actually cook! Hahaha! Xiaoqing was really hungry because there was not much vegetarian food for her. There was this little girl (Yuchan's friend) whom Roy mistakened was my sister. I was totally flattered, because the girl is so intelligent and adorable! She could speak (mandarin) eloquently even though she was like, eight? She was very amiable! I don't mind having her as my sister. Too bad I didn't take any picture of her.

The cake Ruishan and I (and other 8 people who chipped in money) surprised Yuchan with.

With candles. Ruishan, Zhiyong and I had a hard time retaining the fire because of the strong wind.
I know! The girl on the cake looks like some indian girl. The earrings were supposed to be 3-dimensional, made of chocolate rings. The design was inspired by the cake TRL made for Beyonce on her 25th birthday. I thought it was cool, so I decided to do the same one for Yuchan. Of course, it didn't turn out what it was supposed to look like. Never mind, the baker tried his best. Hahaha.. Anyway, the cake was not meant for consuming. Errrm, yeah, it was meant for playing. Hahahaha!! The cream-on-face game started after Adelene and I applied cream on Yuchan's face without her noticing. However, although it was Yuchan's birthday, everyone especially Kimchuan seemed to be attacking Xiaoqing instead! I guess that's the price you have to pay for being clownish in class! LAWL!
Kimchuan apparently applied cream on Xiaoqing's face, then he became ruthless and applied cream on her hair. Xiaoqing took revenge by smashing a slice of cake into his face! Hilarity, I swear!! Witnesses laughed until they almost peed in their pants. HAHAHA!! Almost everyone was victimised except Jasper and Roy. Roy was not involved in the game but heck, Jasper was such a stealthy jerk! He basically attacked people and RAN AWAY! When victims complained, he unabashedly replied, "This is what I call hit and run, okay!" Hahahaha!! It was top fun!!
My class went to Kampung Glam on 5 June for a night walk with Ms Toh. We arrived the place at about 5PM and returned by 9PM. Our tourguide was Ms Margaret and she shared with us many stories about Pontianaks and other malay spirits. The first shop we went sold many different kinds of perfume. I bought a small bottle of Cempaka (a.k.a the smell of Pontianaks) for just a dollar. The shopowner was really kind because he gave me a bottle of headache ointment for free when I asked for the price. It was a sample bottle though, but I really appreciated it. The bottle wasn't for me. It was for my Mom.
The next shop we went was, I think, a medical shop. Then, Ms Margaret introduced some ancient Malay weapons to us.
The limejuice sold there is really refreshing! I thought it was some kind of syrup drink but no, it was really made of lime! Each cup of lime juice costs $1.50 (price may vary if you patronise another stall). Expensive? Well, I think it's worthwhile. Money should never be an issue when it comes to good food, so try it if you haven't done so. I wanted to try their pratas but I was running out of time.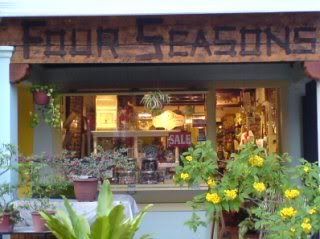 A shop for tourists.

A boutique?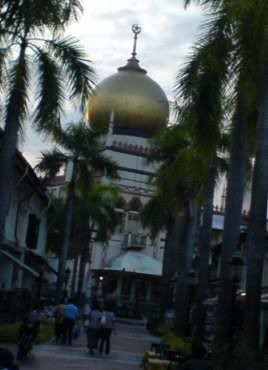 The mosque!
We were told that a mishap happened in Kampung Glam in the past. Because of certain reasons, most shops there had to be closed before night falls. Ms Margaret brought us to the doorstep of a restaurant and told us some frightening stories. Then, we were led to the Malay Heritage Center nearby where chanting could be heard. In there, more stories of Pontianaks (child bearing ghosts, usually evil) were told. Classmates of mine were busily trying to scare the girls by making frightening noises and faces. The last place we went was a mini graveyard where deceased Malay royalties were buried. Before we left the place, we were given a red string each. We were instructed to tie the red string around our pinkies and throw the string underneath a tree near our homes. The string was meant to cast evil spirits away and/or to prevent evil spirits from following us home, so people who lost the red string are likely.. to.. be.. haunted.. by.. Pontianaks...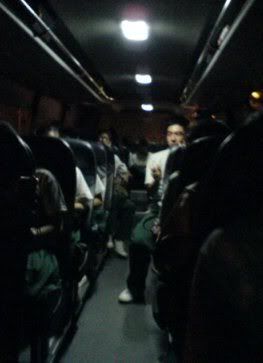 In the bus.
Majority of my classmates didn't enjoy the trip. Some thought it was a rip-off probably because they didn't see any spirits. Like, what the frank? You'll suffer if you see any, innit?!? Some thought the trip was pointless. Argh, whatever floats their boats. I loved the trip! I had learnt so much from Ms Margaret. To be honest, I never knew Kampung Glam had such interesting (no offence) past and shops. When I reached home, I blabbered everything I know about Kampung Glam to my Mom. One day, I'm gonna bring my family there. Haha! Out of all the ethnic districts (Chinatown, Little India and Kampung Glam), I think I enjoy the Kampung Glam trip most.
Have you seen MTV Movie Awards this year? Paris Hilton totally got pwned by the host Sarah Silverman when she commented some rather sensitive remarks pertaining to her jail sentence. She said, "The judge says it's gonna be a no-frills thing, and that is ridiculous. I heard to make her feel like, more comfortable in prison, the guards are gonna paint the bars to look like penises. I think it's wrong too. I just worry she's gonna break her teeth on those things.." Hahahaha!! I am not gonna sympathise with Paris because she obviously deserved such treatment. She had been so rude to many artistes, including Jessica Simpson whom she repeatedly called her 'fat'. Then, she labelled Lindsay Lohan a 'firecrotch'. If Sarah Silverman was uncouth, Paris Hilton is definitely ten times worse. Wow man, Silverman's comments is gonna be the quote of the year! I can't believe she dared to utter such comment when Paris Hilton was sitting in the audience. When Silverman spoke, the audience was cheering away. (This is already a common sight. When I was watching TRL, the small group of audience in the studio also cheered when the news reported about Paris' jail sentence.) She obviously looked pissed and embarrassed in the show, and when she was at the backstage, she was heard saying, "She's a f**king bitch. I hate her!" Hahahahaha!!
Also, do you know Britney Spears is gonna release an album this year? She wants her fans to name her upcoming album. Britney had chosen some possible names, and she wants her fans to vote for their favourite ones:
1. Omg is Like Lindsay Lohan Like Okay Like
2. What if the Joke is on You
3. Down Boy
4. Integrity
5. Dignity
The joke of the year! There was one comment which really made me laugh:
"I think we should make up some of our own. I'm not feeling particuarly creative but hey, its a start.
1. Hole-y fishnets is the closest I get to spirituality anymore
2. My vagina looks like something SPF made with gray play dough
3. Brain Slugs would Starve if I had one on my Head
4. I Heart Gillette
5. Please Leave Me Alone No Wait Come Back" -By Bogdana
Hahahahahahahahahahahahahahaha!!
My puppies had finally opened their eyes! I think the male puppy resembles Puss (in Boots) with his large hazel eyes! He is drop-dead gorgeous!! He loves to sleep in the food bowl. Hahahah! The other female puppies are very playful.

Your typical friendster picture.. featuring the oldest and the youngest puppies.

The youngest puppy (female).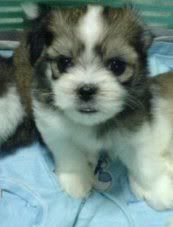 The oldest puppy (female) being extremely blur.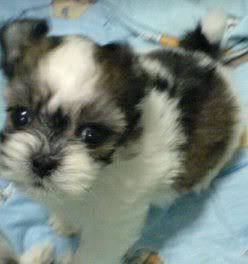 He's the boy I was talkin' about!
Look at his eyes! OMIGOD!!!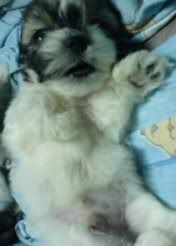 Little boy being mischievous.

Taken when the second oldest puppy was yawning.
The youngest puppy is name Lovey by her new owner. Her owner bought a princess outfit for Angel (the mother of the puppies). The outfit was supposed to be a doll clothing but because Angel is skinny, it fits her perfectly. Angel looked so beautiful wearing it! Absolutely glamourous!!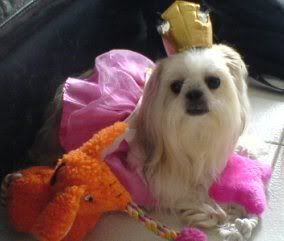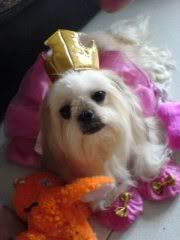 It comes with a tiara! Hahaha!!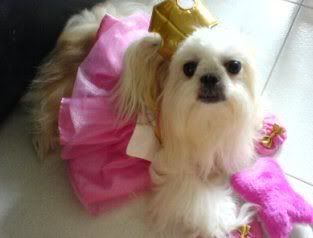 And I kindda styled her fur..

She has always been proud..
Okay, I guess I have to stop here. I may not be updating my blog for the next few months (starting 7 July I just realized my contract would only expire in mid August, so I think I will still be online..) because I'll be terminating my internet. I'm gonna concentrate fully on my studies. No more MSN Messenger, no more blog-hopping. Yes, it's going to be a living hell for me, but for the sake of getting good grades, I'm gonna sacrifice these. Internet will be, hopefully, resumed after 13th November. Wish me luck!
P/S1: I was second in class for mid-year ahd obtained a B3 for English Language. Sorry, was feeling lazy, so didn't bother to upload a picture of my result slip.
P/S2: I created a True Friend Test. Click here to do it. It is very easy. Really.
P/S3: WATCH SHREK 3! It's highly entertaining! Wahahahaha!!
Hasta la vista!